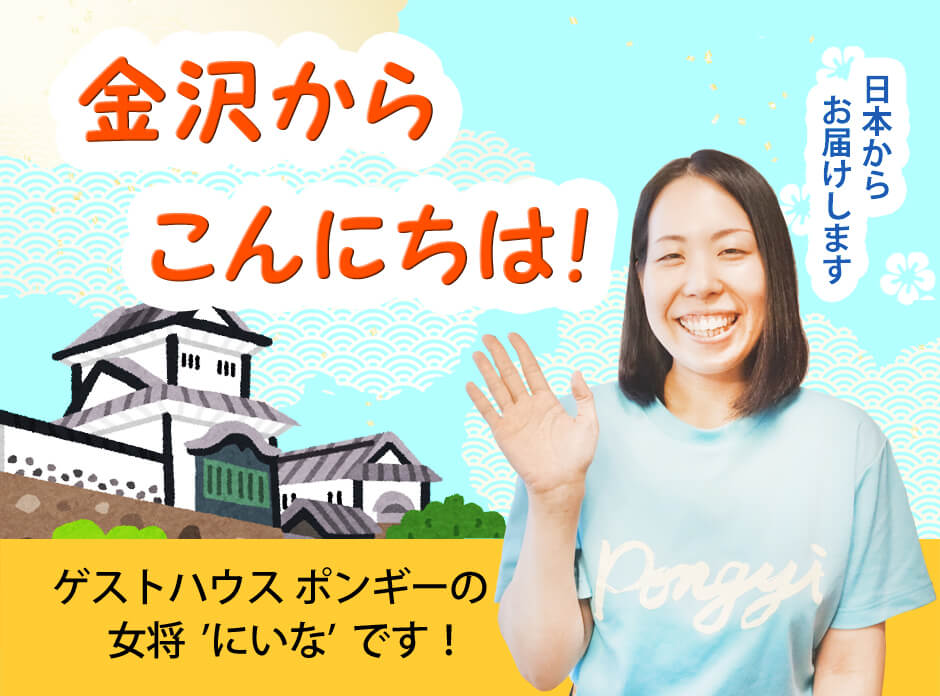 *This article is a translation of "Hello from Kanazawa" of Vancouver Shinpo (newspaper), which is a columPongyi write once a month.
Hello from Kanazawa No,20 (Japanese)
https://www.vancouvershinpo.ca/column/2022/05/12/hello-from-kanazawa-pongyi-20/
***
Hello, this is Nina of Guest House Pongyi.
It was busy during the Golden Week holidays in Kanazawa because there was no regulation for the COVID-19 this year.
Do you enjoy going out in Canada, too ?
I would like to introduce some art works which blend in the atmosphere of Kanazawa.
What is it !? The interesting art works you unconsciously stop and look at
Kenrokuen Garden, Geisha district, tea ceremony, kimono, Japanese sweets...
I think many people imagine something "old and traditional" when they hear the word "Kanazawa."
Some art works suddenly appear in the city may surprise them.
Actually, Kanazawa is also a city of contemporary art.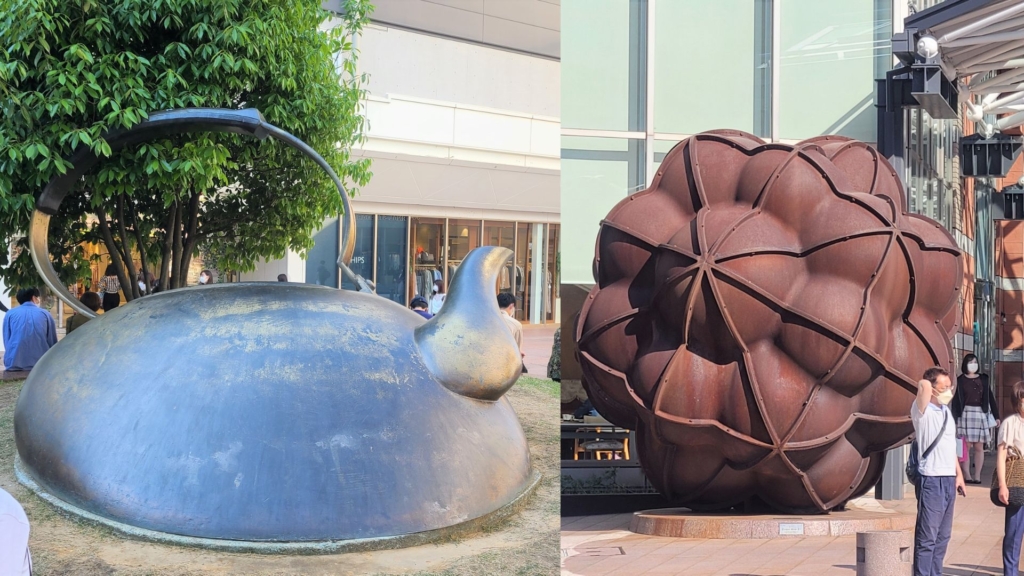 ① "Yakan tai, tento suru" ("A teapot falls down" made by Kazumasa Saegusa *Picture left)
First, the art work right in front of the East side exit of JR Kanazawa station.
A big teacup is lying down on the grass... it is a bit strange, isn't it ?
It is said that this expresses the world of mixture of art and a teapot (a thing which represents the ordinary life.)
There were lots of people sitting and resting around the teapot.
② "Corpus Minor #1" (made by Janne Kristian Virkkunen *Picture right)
A big rusted iron ball placed right beside the street towards the Omicho Market from JR Kanazawa station.
It had a strong presence because its height is 3.8m.
Mr. Virkkunen is a Finnish artist.
"rust" is called "sabo" in Japanese.
He intended to make people associate with "rust" and "the attitude of seeking beauty in old things" (it is also called sabi in Japanese.)
It is said that the change of the texture by time passing expresses the development and the change of the city.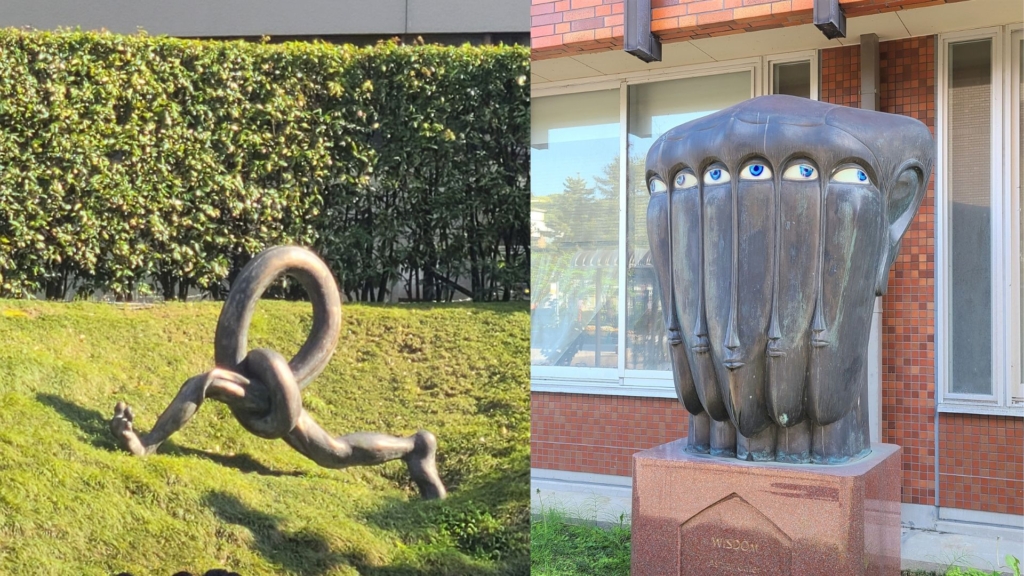 ③ "Hashire!"("Run !" made by Junji Kori * Picture left)
This art work is at the intersection of korinbo which is the center of Kanazawa.
The running legs were made in 2004, the time of 21st Century Contemporary Art. Kanazawa was built.
It stands out even in a crowd.
It makes us feel the possibility of growth by breaking the stereotype.

④ "WISDOM"(Ashraf Gafer *Picture right)

Finally, I would like to introduce you my favorite art work... It is a sculpture in front of the bicycle parking of the city hall.
When I stand in front of it, I feel as if the 5 heads and 6 eyes are saying,
" I am watching everything of you ~"
I cannot do bad things !
It was in more noticeable place, but moved to the current place a bit secluded place some years ago.
Please go to see it when you walk neaby.
Enjoy Kanazawa, the city of art !
These art works are all prize-winning works of an art competition held in Kanazawa in 2004.
I think it is one of the unique aspects of Kanazawa that people can enjoy real art easily.
New and old things are in good mix and it is easy to visit famous sightseeing spots because they are all in 30 minutes distance from Kanazawa station.
This is the good points of Kanazawa.
Please take a walk and find interesting art works when you come to Kanazawa !

***
Hello from Kanazawa (Vancouver Shinpo, Japanese)
https://www.vancouvershinpo.ca/category/column/hello-from-kanazawa/