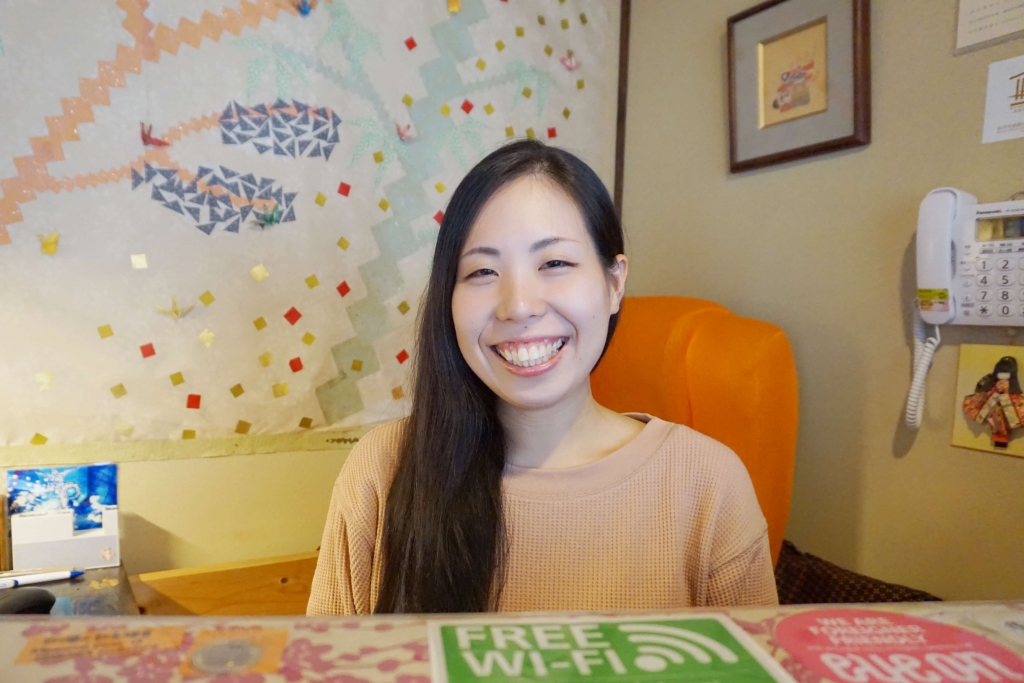 This is Nina. I was assigned to the Pongy landlady (manager) !
Two and a half years have passed since I came to Pongyi.
No way, I've never thought that I am assigned to the Pongyi landlady!
Can I do it ? I'm anxious whether I am a suitable person as landlady.
However, on the other hand,
I am excited to say, "What can I do to welcome guests from all over Japan and around the world ?"
I have been thinking that I am still an unskilled staff, but I would like to continue to develop what ex-staff Maru-san and Yu-san built in Pongyi.
Up to now, what I realized though the work in Pongy is,
Pongyi is very attentive to each guests and it is thoroughly cleaned in the house.
The owner, Masaki, is always saying to the staff
"Think by getting closer to the heart of each guests, and think about what you can do right now."
"Of course, smile is important, but the more important thing is whether you smile from the bottom of your heart."
I don't have confidence in myself yet, and I always sensitive to other people's mood.
So, the Masaki's words seem to be a little bit difficult to do for me now, but from now on, I would like to put my effort to be "a person on the giving side".
Pongy is very attentive to cleaning.
Cleaning Japanese style old houses is not easy, but every day we clean thoroughly without compromising.
We air the mattress outside on a sunny day, or keep fresh in the room every day.
It is difficult to carry a lot of mattress every day, but the comfort of sleeping varies greatly depending on whether I do this or not.
Opening guesthouse (hostel) is a big boom now in Japan.
So many modern and stylish new hostels are opening.
Pongyi is a very small old-fashioned Japanese traditional house that is not new, has low ceilings, has many steps, and is completely different from a modern hostel.
But I love this atmosphere which we cannot buy with money !
Feel relieved, and I feel calm like at home.
The Pongyi staff work with joy and guests will be able to rest comfortably (and bring some kind of souvenirs back home), and Asian children will be happy with donations from the accommodation fee.
I am very happy to be a landlady of Pongyi which has created such a chain of happiness!
I would like to do my best to make our guests' hearts warm, and to give a present of good memory in Pongyi to bring back home.
I have a lot of things to learn yet.
I would appreciate your continued support.
Thank you very much.
Nina