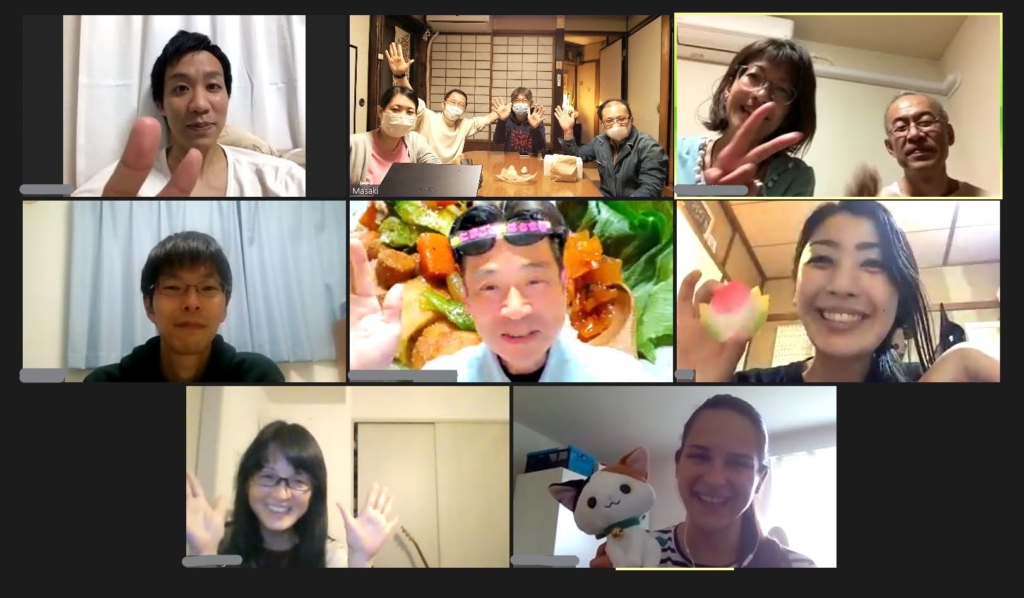 The "Golden Week" (long holidays for about 10 days in Japan) ended last week.
It seems that the quiet days came back to Kanazazawa.
Many guests stayed at Pongyi during the Golden Week holidays after a long time.
I cannot believe 1 week have already passed.
I said "many", but it actually is almost half of the capacity because Pongyi is limiting the number of people of the dormitories (shared rooms) for the infection prevention.
However,
"Where did you come from ?"
"Where did you go today ?"

The scenery of our guests talking each other reminded me of the days in pre-COVID times.

"Wow ! THIS IS the guesthouse !"

It was a really happy holiday week for us as well.
Pongyi Cafe on May 8

The last time Pongyi Cafe, we had 2 new guests.
One was T-san, a guest who stayed at Pongyi during the Golden Week.
He was a backpacker and traveled around the world when he was in university.
Another was K-san from Sapporo.
He also stayed at Pongyi about 4 years ago.
It was wonderful that I could see his face again !
The topics were like them.
・ S-san in Hakui became the company president !!
・ The subscription concert of S-san and K-san in Sapporo was finally held !
*K-san is different from K-san who stayed at Pongyi 4 years ago.
・ The Swiss government eased the restrictions of the COVID-19.
Let's take a look at them in order.


① S-san became the CEO !

S-san living in Hakui (a city near Kanazawa) told us that he became the president of the company.
Congratulations !!!
Actually, Masaki-san and I have not met him yet.
However, his smile (he ALWAYS smiles !) makes us happy and feel the sense of familiarity.


The company S-san works for is "Kaiosei."
It means "Neptune" in Japanese.

The spring rolls with egg are delicious !!
https://www.kaiosei.jp/

With S-san, the future of the company looks bright !
Again...congratulations!


② The concert of S-san and K-san in Sapporo was held !
S-san and K-san belong to a same orchestra.
S-san plays the fluto and K-san plays the trumpet
They told us that the subscription concert (regular concert) which has not been held for recent years finally held on beginning of May.
I was surprised to hear that the concert hall which can hold 500 people was almost full !

S-san and K-san, congratulations too !
I am jealous that many people enjoyed their music !

I wish the concert will be held every time...
I am looking forward to listening to their music in the future ♪
③ The Swiss government eased the restrictions of the COVID-19
S-san in Switzerland told us that people in Switzerland did not need to wear a mask even in public (only in hospital they need masks.)
The governments in Europe and other countries tighten regulations when the infection situation is not good, but easily ease them once the situation becomes better.
I think that is amazing !
It seems that it takes more time for Japanese people to live without masks.
I hope S-san in Switzerland enjoys her no mask life !



It was really fun to talk to participants.
Thank you very much for joining.
Tomorrow (May 15) , we will open Pongyi Cafe.
We are happy if you have a relaxed time at the cafe.
Pongyi Cafe  ↓