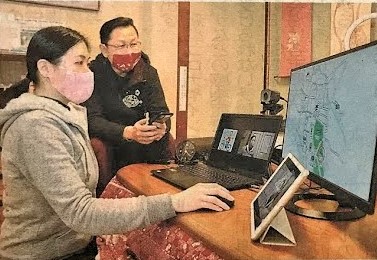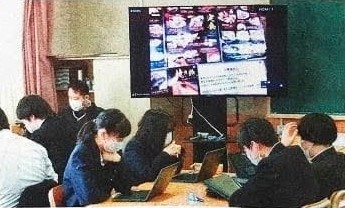 * Quoted from the articles of Hokkoku shinbun (newspaper).
Hello, this is Masaki.
March 9th (Tue), we did "Online Kanazawa Town Tour" as a school trip for Sakaki junior high school students in Nagano prefecture.
A School trip online !?
..... I know how you feel !
It was the end of January when we got a offer from a major travel agency for the first time.
" Sorry !? Doing a school trip online !? "
When I got a phone call, I was surprised and there were many "!?" in my head.
My image of a school trip (typical school trip in Japan) is...
Sightseeiing following a tour guide, doing field work...
(but actually, going to eat popular local sweets seceretly, having pillow fights in a room of Ryokan, etc. instead).
However, this time, a person in charge said,
"We want you to do "Online Kanazawa Town Tour !"
According to him, the students will experience putting gold leaf online and will watch a video which was made by a high school in Kanazawa, too.
He also said,
Sakaki junior high school was going to come to Kanazawa in March as a school trip for about 130 second grade students,
but they decided to prolong it because of the influence of the COVID-19.
Instead of the real school trip, they planned "experience Kanazawa online".
"Sakaki junior high school teachers think about what is the best for the students. What a great school !"
This story made my heart warm, so I said immediately,
"Sure ! I would love to ! "
thinking of the faces of students and teachers that I had never met.
However...
Our "Online Kanazawa Town Tour" is a tour that Pongyi live - stream how is Kanazawa by moving around Kanazawa and communicate with the participants.
And, we have never did the tour for a big group, about 130 people.
I said to the person in charge,
"I think the online tour for the junior high school will be a bit different from our ordinary tour.
I will make it into their own version, for kind of the preparation of the real trip, and will show Kanazawa online.
I will be the eyes and the feet of the students !"
Afterwards, we officially got OK from Sakaki junor high school !
According to the school, a tablet will be provided to each students in February.
I was really excited to a new challenge !
" What course is the best ? "
" How can I adopt the contents of the real school trip ? "
" How can I live - stream to many people in a room ? "
" Is the image fine if we deliver the image to each students' tablet at the dame time ? "
and so on...
I did a lot of trial and error with Nina for about 1 month until the day of online.
I was not sure if we could realize the high-quality like film and video industry...
but we are just a man and a lady manager of a guest house.
" Let's make a memorable online tour which expands the experiences and increases the knowledge of students as possible as we can !"
To realize our wish, I thought it was important to provide "what we can do only online (what we cannot do without online.)"
I suggested the course of
Omicho market ~ Higashi chaya geisha district.
Omicho market (fish market) is necesssary for the students in Nagano pref. (landlocked pref.)
130 people (4 classes) will be devided in 2 groups.
45 minutes for each group.
If I move by bike (keep continuing the live stream of course) from Omicho market, next spot is Higashi chaya district.
(Other sightseeing spots are a bit far from the market when I have only 45 minutes.)
《 What we can do as a school trip by taking advantage of the characteristics of online 》
This became the theme of our online town tour this time.
I need to have a meeting with teachers beforehand...
< To be continued.>