*This article is translated from the column "Hello from Kanazawa (No.8)" of Vancouver Shinpo.
* Original article of Vancouver Shinpo  (Japanese)
日本語コラムはこちらからどうぞ!
https://www.vancouvershinpo.ca/column/2021/05/06/hello-from-kanazawa-pongyi-8/
Hi, this is Nina from Guest House Pongyi.
In this article, I would like to introduce you Pongyi, the guesthouse I work for.
What is Pongyi ?
Pongyi opened in 2009, as the first guesthouse (hostel) in Kanazawa. It was made from a renovated about 140 years old kimono warehouse and has only 3 rooms.
About 70% of all guests are people from overseas. 
The location is really good. Only 10 minutes on foot from JR Kanazawa station. In addition, a small canal is running in front of the house.
I can sometimes see small fish, fireflies and spot-billed ducks in the canal and enjoy the water sound. 
I am happy I can work in such a beautiful location !
Why "Pongyi" ?
Pongyi means "Buddhist monk" in Burmese. This comes from the experience of Masaki (representative of Pongyi). He became a Buddhist monk in Myanmar before.
One of the purpose of Pongyi is to help the economically disadvantaged children in Myanmar, so we have been donating 100 yen from each accommodation fee to them since the opening. 
Attractive points of Pongyi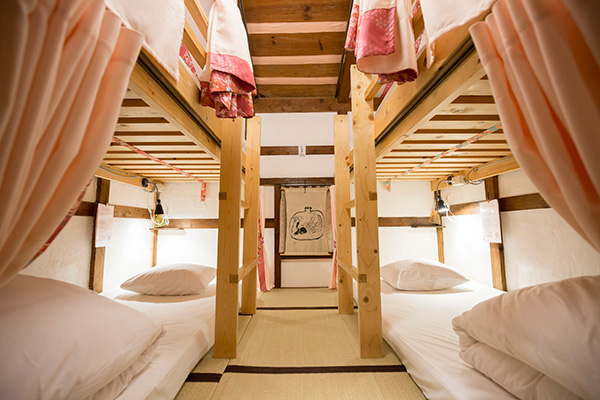 One of the features of guesthouses is they have dormitories (shared room).
Moreover, usually the room is without meals and services. That is why people can stay in a guesthouse with a small budget.
Many of our guests become friends quickly in Pongyi, because we (Masaki and I) introduce them each other and there are many shared places in cluding the dormitories.
Fortunately, people in all generations, especially those who like the cozy and traditional Japanese lifestyle stays at our guesthouse.
Place of the experience of Japanese culture and the communication
What we think the most important is communication.
We usually do some activities (paper folding, calligraphy and tea ceremony etc.) at the small common room in Pongyi.
Especially, we are doing "Peace origami (paper folding)" almost every day.
It is the origami made of a paper with peace message.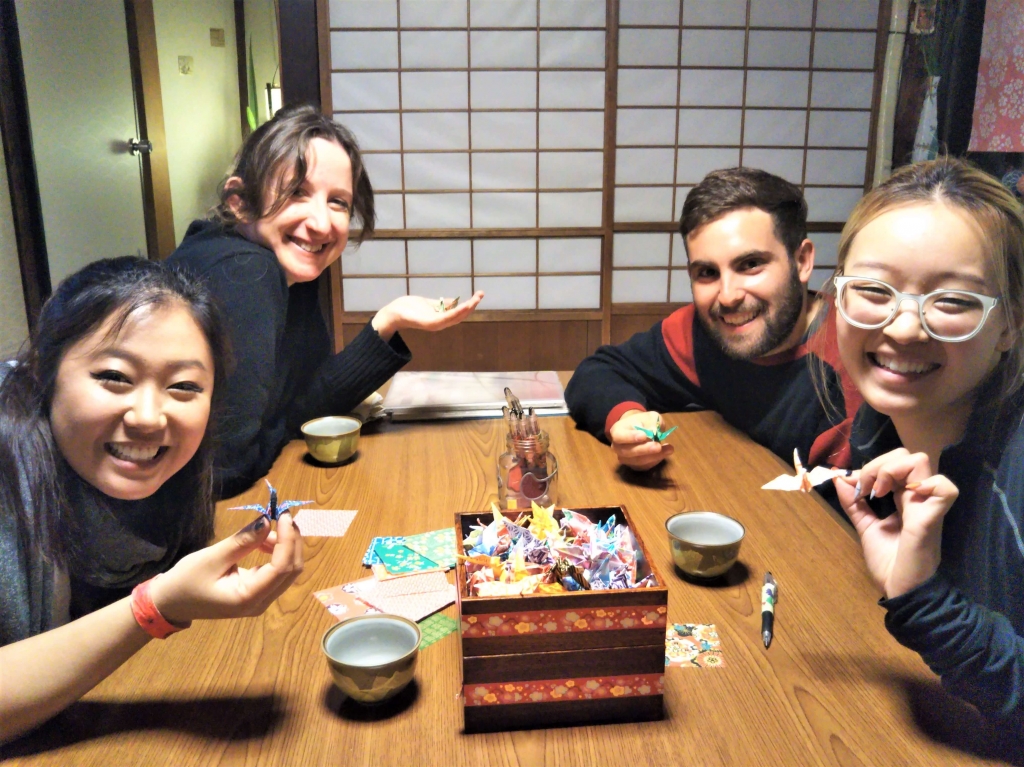 " We hope each guest have the time to think about the peace, even just a little bit."
With this kind if wishness, Pongyi has been doing it since the opening,
We sometimes hold the seasonal event of " Japanese traditional sweets making".
Our friend (patissier of Japanese sweets) teaches how to make.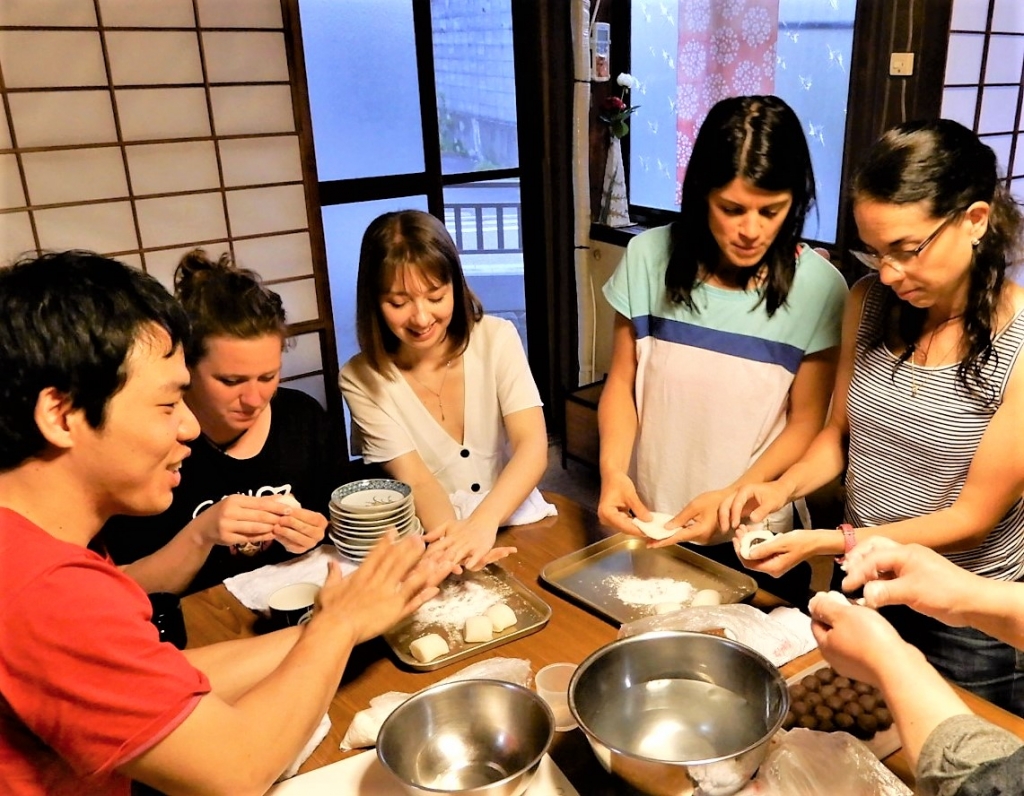 We could not make "kashiwa-mochi" (special sweet for the chiledren's day (May 5th) ) last year and this year....
We wish we will be ale to do it new year !
Pongy nabe (hot pot) is our main event in winter season.
Oue guests and we go to a supermarket nearby, make nabe and wash dishes together. "Toriyasai-miso" makes Pongyi nabe taste better !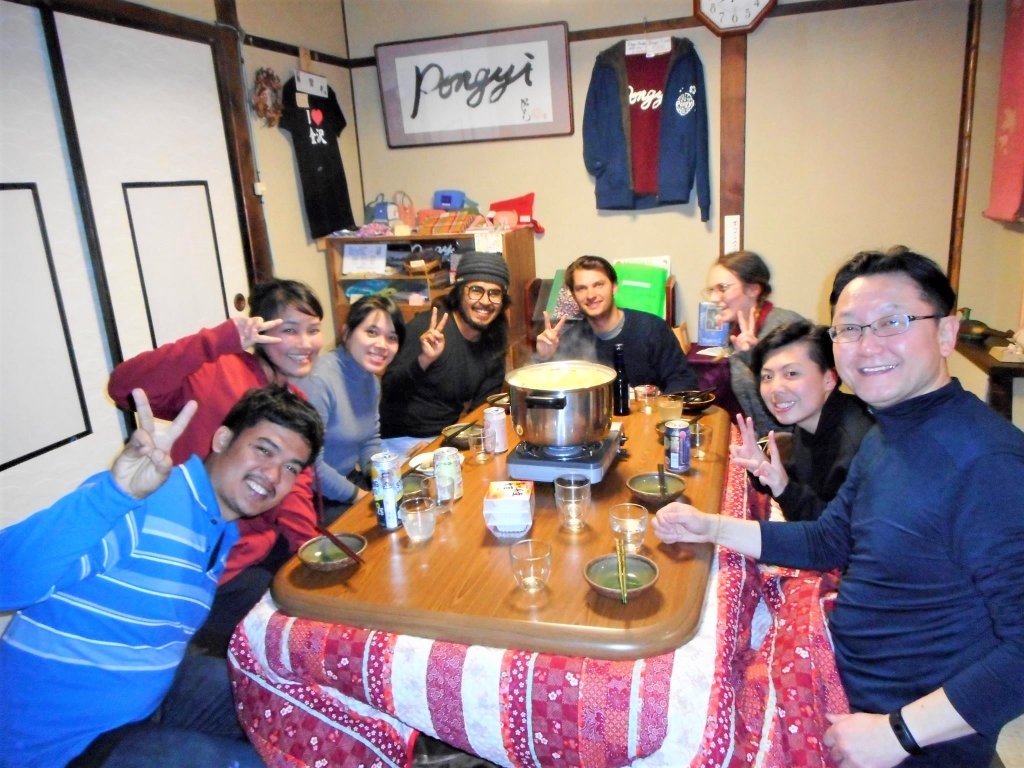 We would like to do Pngyi nabe again !
Hope our guests to take "treasure" home
In a guesthouse, guests and staffs are usually close each other, so it is easy to talk.
We talk a lot to each guest as well.
Not only about Kanazawa, but also about the Japanese culture, travel and the life...
We hope out guets to find a "treasure" like good memories and informations... something good for them at Pongyi and take it their home.
We are glad our thought came to get an award "Travelor's choice" (only the top 10 % of the hotels in the world can get this) of Tripadvisor for 8 years in a row.
What will Pongyi do in the future ?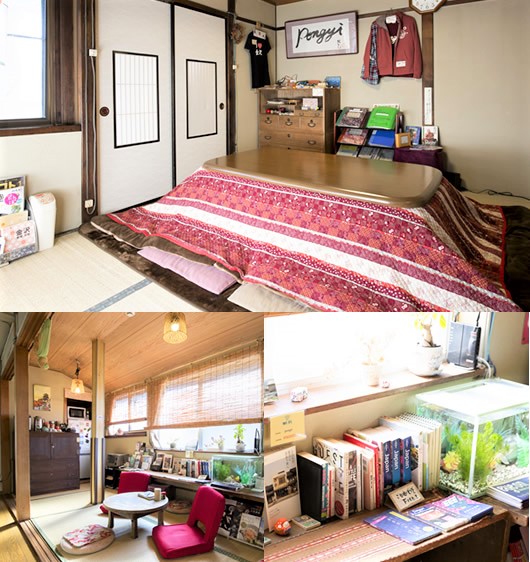 The influence of the Covid-19 directly hit the guesthouse (hotel) industry.
Pongyi limits the number of people of the dormitories and keeps the rooms not to be too crowded now.
However, there are still lots of things that we cannot do like before.
Even in this hard time, we are going to chrish the warmness of people's heart and communication.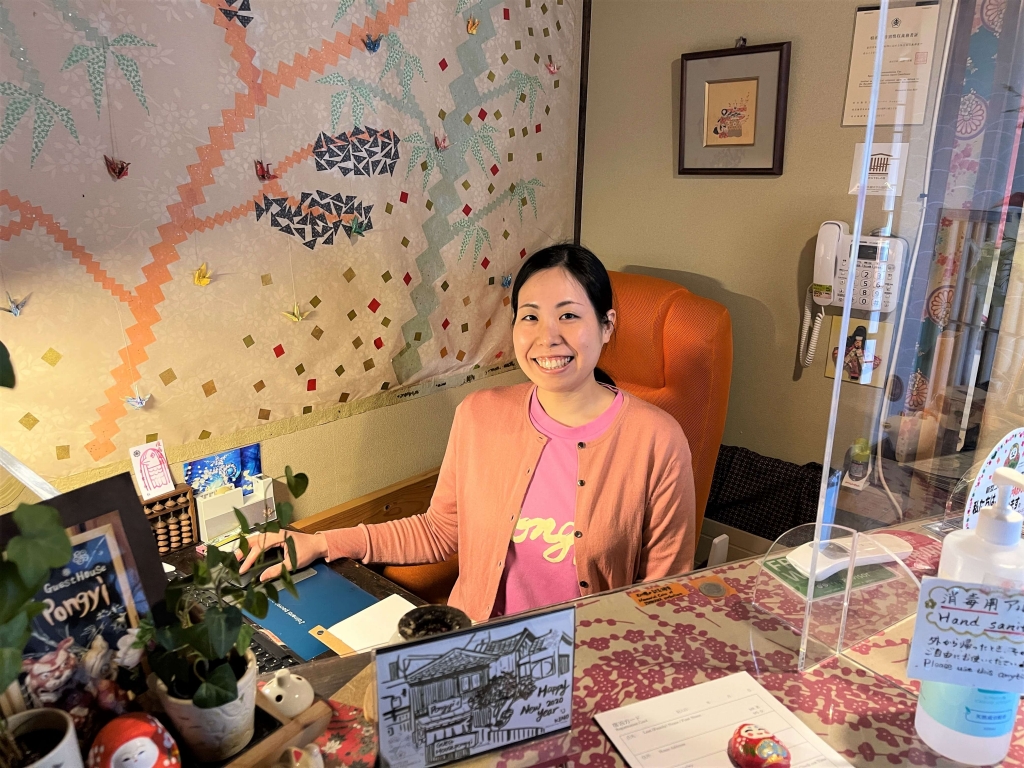 We will give you the informaiton of Kanazawa (our favorite city !) as well, of course !
Thank you very much for reading.