*日本語版はこちらからどうぞ!
http://blog.pongyi.com/?eid=909687
Hi, this is Nina.
Masaki-san and I were invited to Elementary School Attached to Kanazawa University as guest teachers last week, because the students of 5th grade (class 3)  were going to make their own online tour by themselves for children in the class of integrated studies.
We brought a laptop and a smartphone that we always use in "Kanazawa Online Town Tours, " opened ZOOM in the class and talked about the online tours.
In the class, Masaki-san left the classroom and broadcasted the live video while he was walking to the square.
The students gave directions.
After that, a boy tried doing an online tour like him !
Other students supported him from the classroom.
Non blurred video ! That was great !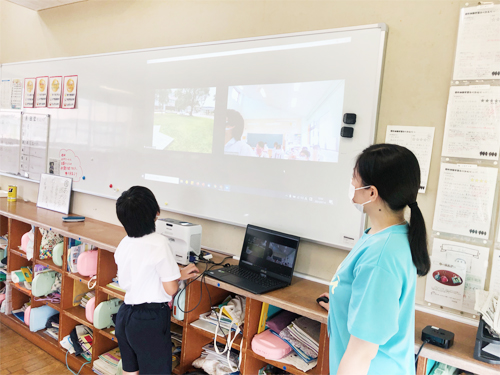 "How do you hold an online tour in rainy day ? "
"How should we advertise our online tour ? "
They gave us many questions.
We were impressed by their curiosity and attention to detail.
We felt we were happy enough to meet the students and talk to them...
However, wow !
Fortunately, the class teacher wrote an article about our onine tour class on a class newspaper a few days later !
Moreover, all students of 5th grade class 3 and the teacher wrote letters about their feelings !
Please take a look at the 2nd picture.
Full of letters on our big table... !
It become completely white !
We read all the letters.
" I feel I can make an online tour for children !"
"I want to try making an online tour !"
There were so many positive message.
Also, hats off to the class teacher !
She always support chidlren... really heartful and motivated person !
They told us that they would show their online tour when it's completed.
They must make an amazing tour with their full of curiosity, imagination and creativity !
We can't wait to see it !
We were glad that our online tour class stays in students' heart.
It was good that they could experience the real online tour.
We will definitely cheer for them ♪
Thank you very much !