Hello, this is Nina.
Masaki-san and I were busy for snow shoveling during the last three consective holidays.
The snow has settled down, but it is still cold in Kanazawa.
The temperature in Kanazawa rarely gets below zero.
However a few days ago, when the cold wave was approaching to the Sea of Japan side,
the weather forecast said
"- 7℃"
on TV screen !
" Wait, what ? Is this right ?"
I checked the temperature over and over again.
Actually it was warmer (around -3℃) than the weather forecast said in Kanazawa, but I heard that the temperature in Wajima city (Noto peninsula) went down to -9℃.
Now, Pongyi has been really quiet since last year.
(Thank you for all the guests who have stayed at Pongyi in that time !)
I think there are many people who are afraid of going out of the house... but
"is everyone doing well ? I miss the time that I enjoyed talking to some guests with Kotatsu heating table !"
Masaki-san and I are really miss all our past guests !
Some guests asked us, " Is there a place of online communication that everyone can join ?"
So I talked about that with Masaki
and we decided to open "Pongyi Cafe"!
It is a "Cafe " but we do not serve real coffee.
It is a place to talk online.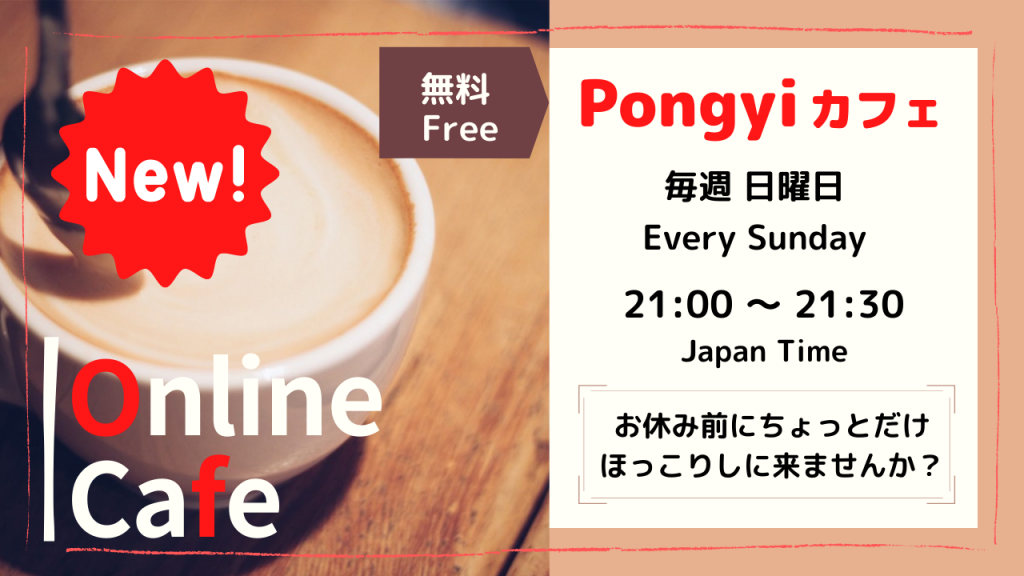 ************************************
Pongyi Cafe (online)
https://pongyi-online.com/plan/plan-201/?en=true
Every Sunday, from 9pm (30min.)
Free
Everyone can join !
* Japan time
★During Jan.31 (Sun) ~ Feb. 7 (Sun) open every night !
************************************
* Thank you for all the people who kindly applied for participation after announcing it on Instagram and Facebook !
We set the limit "only 30 min."
Bacause we thought short and simple talk is better than long and deep talk especially before going to bed.
"Everybody is doing well !"
"Wow, each person has each way to spend time.That's interesting !"
We hope the Pongyi Cafe will be the time to recharge.
Neither Masaki-san nor I can drink, so we are going to join with a cup of hot milk...
If you like, you can drink of course !
However... if Pongyi cafe is not popular and nobody joins twice in a row, we are going to close it.
We are looking forward to seeing you at the Cafe ♪
--------------------------------------
【Notice of temporary closure】
--------------------------------------
Because of the situation of coronavirus, Pongyi will be temporary closed.
(We are going to close until the end of Febuary, but we have not decided when we finigh it.
It depends the situation of coronacirus.)
However, we are happy to receive reserviations from repeat guests even during the closed period.
In that case, please send us an email to mail@pongyi.com♪
--------------------------------------