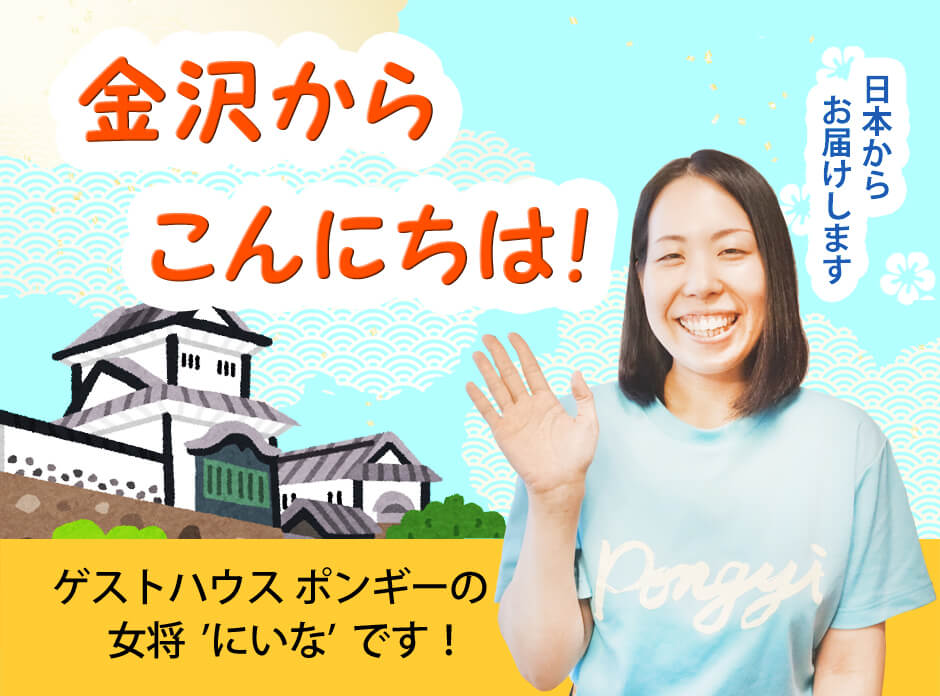 *This article is a translation of "Hello from Kanazawa" of Vancouver Shinpo (newspaper), which is a column Pongyi write once a month.

Hello from Kanazawa No,17 (Japanese)
https://www.vancouvershinpo.ca/column/2022/02/10/hello-from-kanazawa-pongyi-17/
***
Hi, this is Nina of Guest House Ponygyi.
In the beginning of February, we had snow again in Kanazawa.
It was only 30cm, but I had muscle pains because of the snow shoveling.
I wish I had exercised more every day!

I would like to introduce an useful heating equipment which is used at Pongyi in winter this time.

A hose in a house ? Warm air duct !
What kind of heating equipment do you usually use in your house ?
Many houses in Vancouver may have the central heating system.

We began to use a "warm air duct" a few years ago.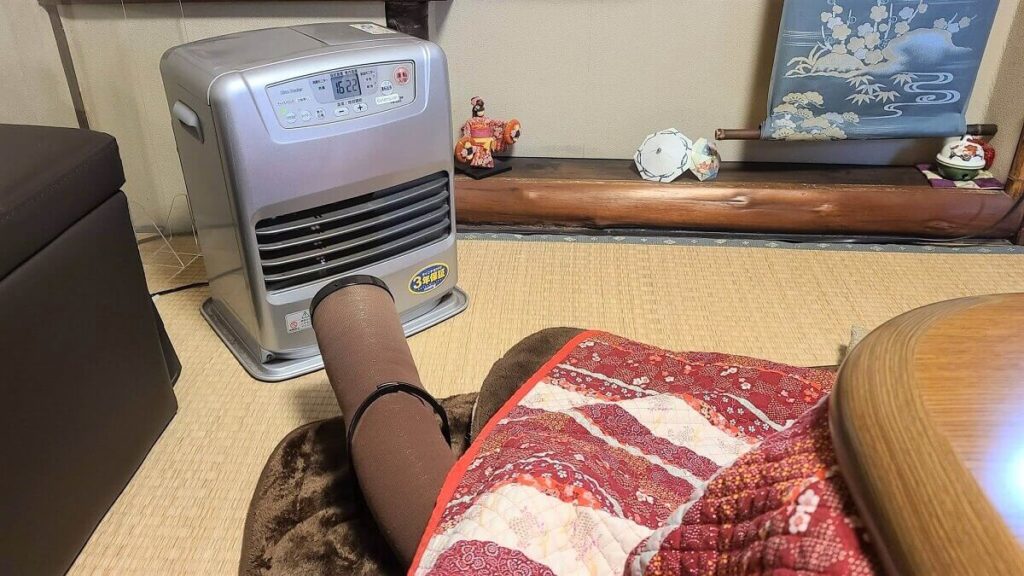 The brown hose which connects an oil fan heater and a kotatsu (table) , this is the warm air duct.

It is also called "Kotatsu hose" or " energy saving duct."
Kotatsu usually consumes electricity power, but with the warm air duct, kotatsu does not consume electricity.
"This looks just a hose. Does it really heat inside of the kotatsu ?"
Some people may think so....

However, the warm air duct make inside of Kotatsu very comfortable !
Moreover, it becomes warm quicker.
How to use is very simple.
Just put the warm air of the oil heater into Kotatsu, that's all.
Air comes into Kotatsu directly, so it is really warm.

There is a big kotatsu table at the Pongyi common room.
About 6 -8 people can sit around it.
However, if we use the kotatsu in normal way for many hours every day, the electricity cost is over 20,000 yen (173 dollars) / month in winter season.
" How can I cut this cost ?"
Then, I remember a warm air duct used in my family's house.
I immediately ordered online.
After started using the duct, the electricity cost decreased about 5,000 yen (43 dollars) !
The guests from other places (kanto and kansai area) in Japan usually ask us, " What is this ?" pointing the hose which is out from the kotatsu quilt.
They do not know the warm air duct.
The warm air ducts were made in Tohoku area for the first time, but it is popular in Hokuriku, Niigata and Nagano these days.

The disadvantages of our duct are ...
The duct looks a bit like a caterpillar.
In addition, we tend to step on it against our will.
The brown bellows comes out from Kotatsu make people think "What is this ?"
Even if we pay attention, we cannot stop stepping it while cleaning the house.
Our guests (they do not notice there is a duct...), too. Of course.

Therefore, our lovely duct keep putting the warm air into the kotatsu very hard every day no matter how bumpy it becomes.
This is an energy saving equipment only for the house with kotatsu, but it has two advantages of warmth and economy.
We think this is one of our small SDGs.
what is your SDGs attempt ?
***
Hello from Kanazawa (Vancouver Shinpo, Japanese)
https://www.vancouvershinpo.ca/columns-series/hello-from-kanazawa/