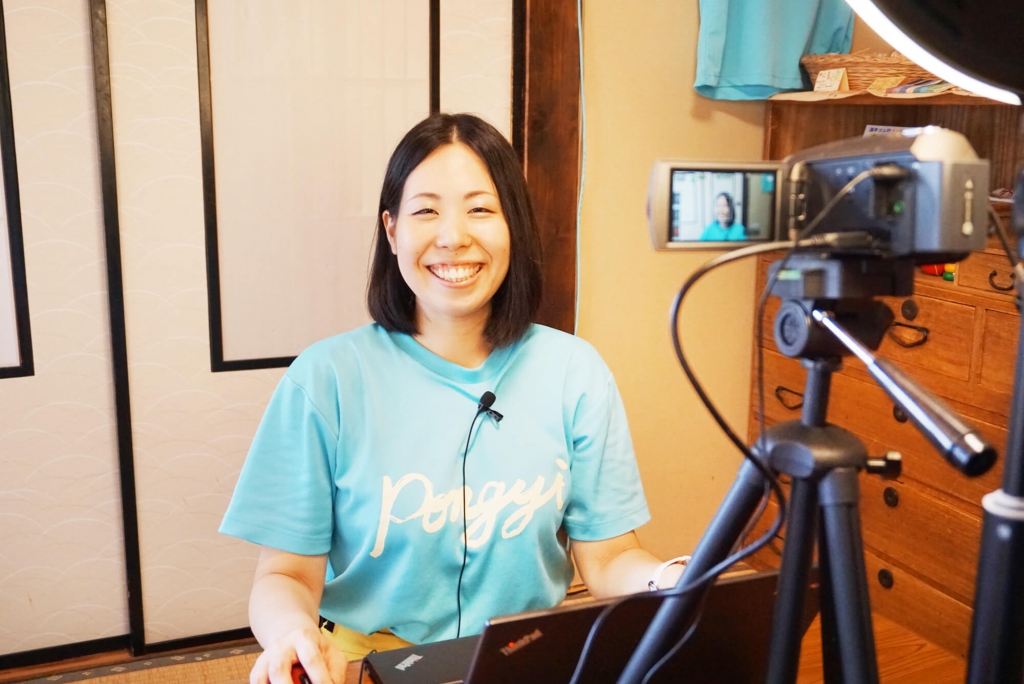 I am Nina, Okami (landlady) of Pongyi.
It's been a long time since I wrote my last blog post.
How are you? all doing well?
You may have already seen Pongyi's Instagram and Facebook articles, but this time, I would like to talk about Pongyi's "Kanazawa Online Tour".
Although Pongyi is affected directly by impact of COVID-19,
"Nothing is born just by staying still !"
We decided to introduce the current Kanazawa city online.
Masaki-san and I were completely new to online and video (even now...),
but Masaki-san said
"Well, let's do it."
"At first, everyone is an amateur."
I decided to try to it with Masaki-san'words.
Pongyi was closed at that time, so we had plenty of time.
At first, we felt that it was easy to use the ZOOM outdoors, but the more we practiced and the more we learned, it turned out to be very difficult.
To put it simply, the quality of the image is poor.
It is good when it is stopped, but if it moves even a little, the image will be distorted.
Depending on the location, the image may be distorted due to the radio wave condition.
For the question
"Can't you use YouTube videos?"
"YouTube is beautiful, but it's not "now" and I can't participate there! "
For the question
"Well then, why don't you use YouTube or Instagram live?"
"Chat communication is not smooth, and I don't feel like I'm on a tour together without talking !"
So, We really wanted to focus on broadcasting live ZOOM from the outside.
A radio wave lines, software for live distribution, measures against blurring of images when riding a bicycle, and measures against rain…
For those of us who don't have the equipment like an event company, the hurdles were higher than we had imagined.
" It is probably impossible to do this ! "
We tried to gave up many times.
But Masaki said,
"Well, let's try as much as we can, it's fun to try this ♪"
I decided to try my heart that was about to break.
Then, we ask an expert for advice, get opinions from our friends, make trial and error… and finally we were able to create a broadcasting environment that could be provided to everyone.
Masaki, who has experience of mini tour guide with guests, is in charge of the outdoors.
As the host, I am in charge of showing the materials and maps to the participants staying in Pongyi.
We have just taken a step forward by posting this online tour plan on the website of the Kanazawa Tourist Assciation.
Kanazawa Online Town Tour (in Japanese)
https://bit.ly/38KEFDQ
The other day, I also made a plan for "Tour in English" so that people overseas can also join it.
Online Kanazawa Night Tour
https://bit.ly/3iWaaOS
We don't know what will happen from now on, and how much everyone can accept this online tour started by an amateur.
But there are many things we would like to do on an online tour, and considering this, it is a lot of fun !
We are thinking to make a plan to introduce the Japanese lifestyle by using the Pongyi's building.
It's a handmade online tour that we will continue to improve, but we look forward to your continued support !
-Next time, I would like to share the thoughts of Masaki, who is trying ' Online'. -