This is Nina.
Masaki-san and I have reopened Pongyi on March 19th.
We had been closed the guesthouse since the beginning of January.
I was wondering if I forgot what I should do when someone is checking in, but fortunately I remembered.
(I completely forgot how to accept the check in last year when Pongyi reopened after about the 4 months closing !)
The 2 guests in a following picture came to Pongyi separetely, but they both had stayed at Pongyi before, so this time was their second time.
" Welcome back !! "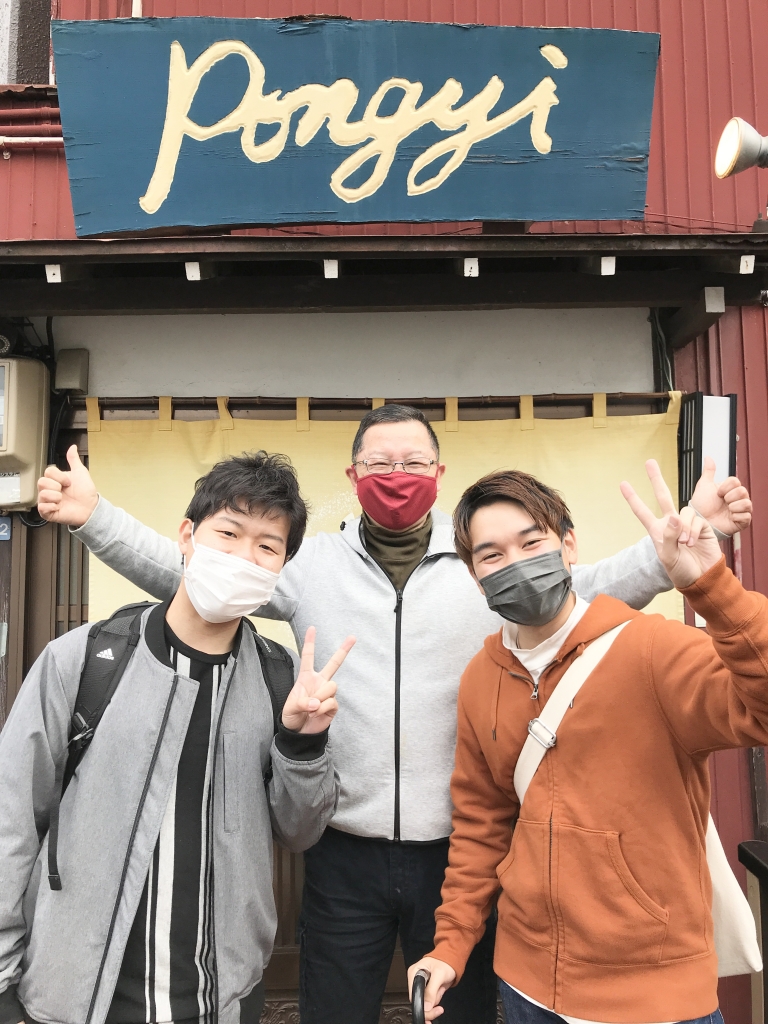 K-san likes traveling and visiting the guesthouses, so he used to visit various places not only in Japan but also abroad.
However... after the spreading of the COVID-19, it became difficult for him to travel and even his work chaged to the remote work.
He came back to Kanazawa for the first time in a while !
M-san is a university student.
He was busy studying for the exam to become a teacher.
Nevertheless, he came to Kanazawa !
He was keep studying during his stay in Kanazawa (Great ! I cannot do that !)
Masaki-san and I tried to solve the questions of last year exam, but it was too difficult for us...
The time Pongyi spent with them was really fun of course, but what made us happy was, their words.
" I don't have any particular plans in Kanazawa, but I came here to see you both ! "
This made us happier than anything else !
For M-san, the stay at Pongyi last time was his first time experience of traveling alone and staying at a guesthouse.
After that he traveled some other places as well, but Kanazawa was the first place that he came back again.
K-san was keeping in touch with some people that he met at Pongyi last time.
He showed us the Instagram, saying,
" Please look at this. They are here now ! We are still keeing in touch ! "
We realized Pongyi is not only a place that brings back the good times but also a place to make friends.
The days we spent with them, those were really happy days for us !
We hope K-san will enjoy traveling more and M-san will pass the exam !
Thank you veru much for letting us saying "welcome back" !
You are always welcome here in Kanazawa ♪
■■■Information■■■
<Pongyi just started Twitter ♪>
We do not have many followers, but we would like to offer information about guesthouse, Kanazawa and online plans ♬
We will be happy if you look at our tweets sometimes !
————————————————
Twitter : https://twitter.com/ghpongyi
Instagram : https://www.instagram.com/guest_house_pongyi/
Facebook : https://www.facebook.com/guesthouse.pongyi/
You Tube : https://www.youtube.com/channel/UCADUuwXtx3es5y9YLi-EDrg/videos
————————————————