A 10-minute walk from Kanazawa station (East gate)

BY TRAIN
It takes 10 minutes from the JR kanazawa Station on foot

BY CAR
It takes 10 minutes from the interchange of Nishikanazawa by car.
Please use "Kanazawa city hotel" as a landmark if you use a car navigation system.
We don't have our private parking lot.
There are some coin operated parkings near our guesthouse.
Access from Kanazawa station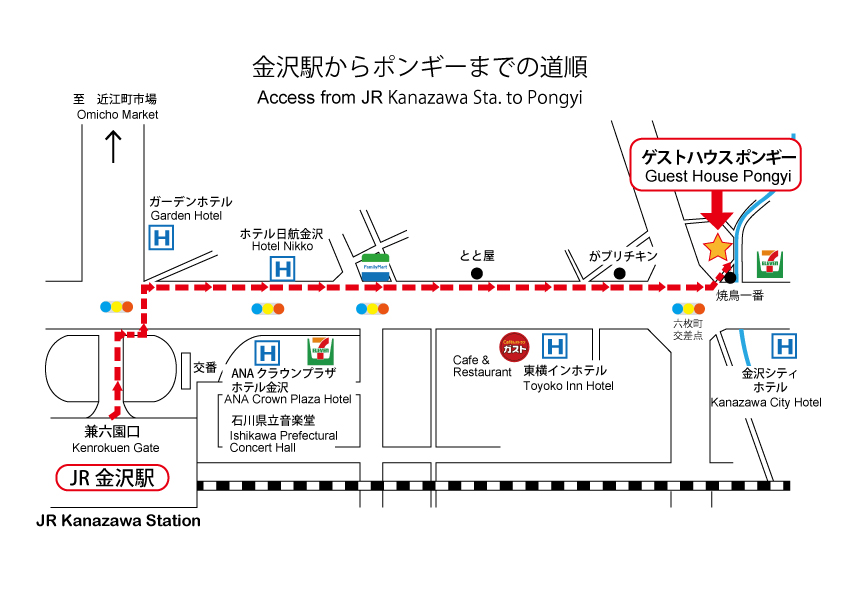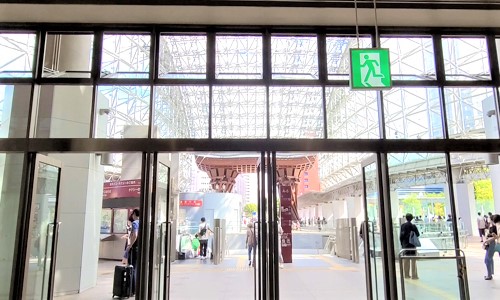 ① There are 2 exits at Kanazawa Station. Take the "East Exit" or "Higashi-guchi." and go straight toward a big gate (Tsuzumi-mon gate). 
→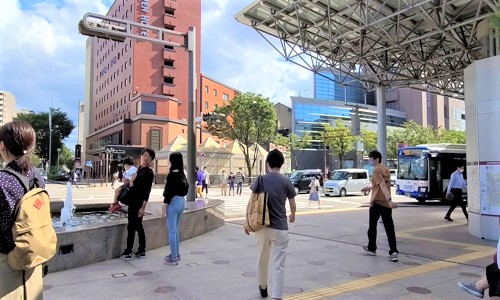 ② Go through the Tsuzumi-mon gate and walk across the street passing by a fountain. →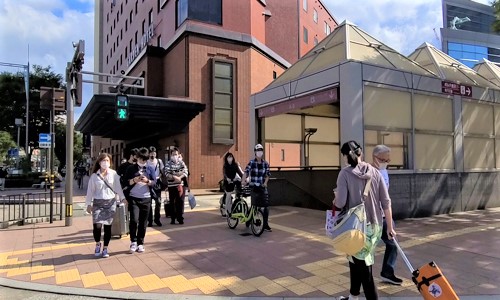 ③ After crossing the street, turn right. 
→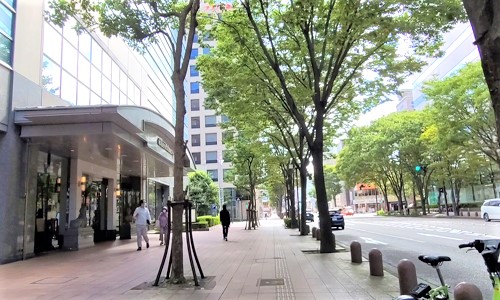 ④ Go straight looking "Hotel Nikko Kanazawa" on your left side. 
→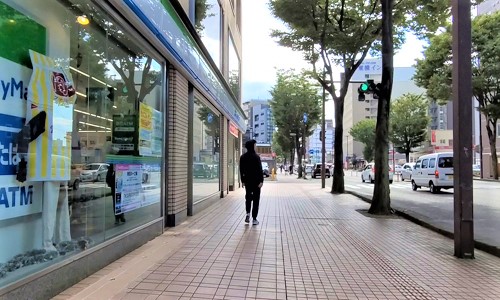 ⑤ You will see a convenience store"Family Mart"on your left and proceed straight on.
→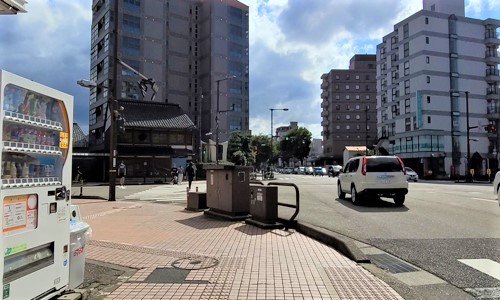 ⑥ When you come to a big intersection (Rokumai-machi intersection), go straight and cross the street. 
→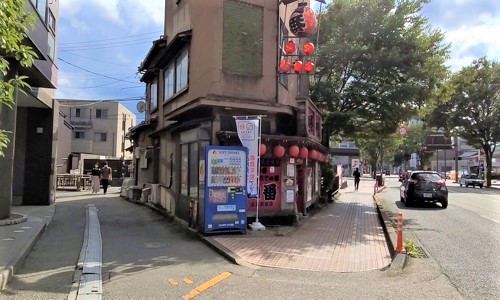 ⑦ Restaurant " Yakitori-ichiban" (there are many Japanese red lanterns in front of the restaurant) diagonally forward left. (10m from the intersection) 
→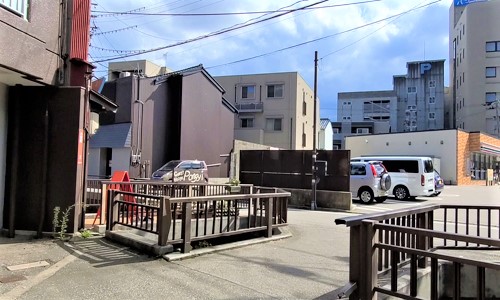 ⑧ You can see a small bridge. →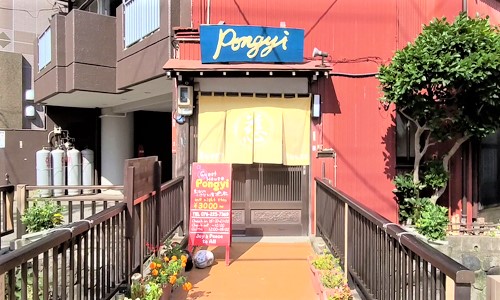 ⑨ Cross the bridge. A red colored house on right left of the bridge is Pongyi !
---
Coin operated parkings nearby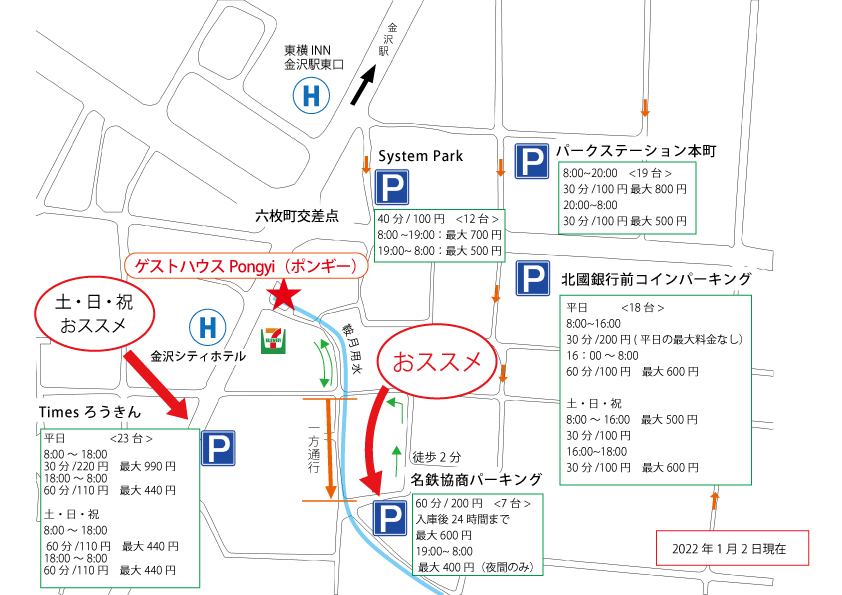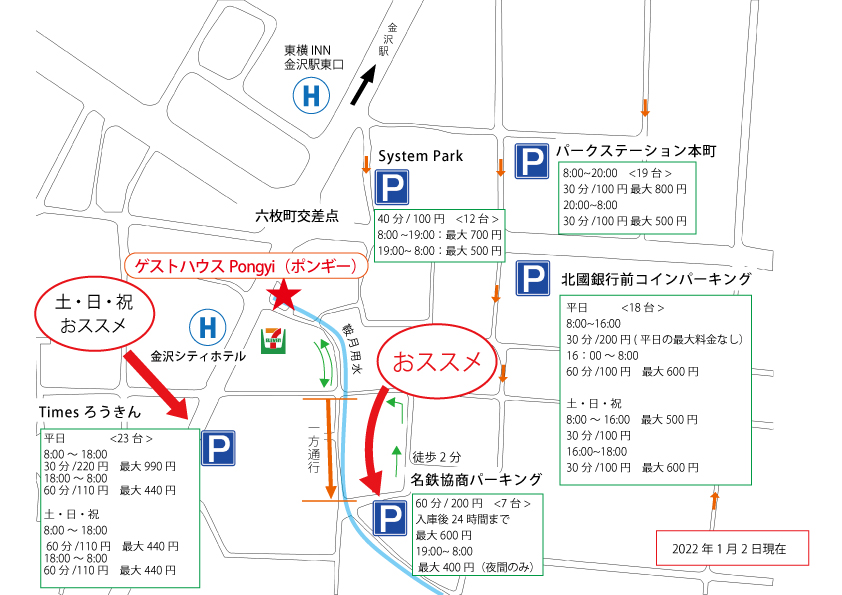 *The price might have changed. Please use this as a reference.

The time required to go to each sightseeing spot
     ・10 min. to Kanazawa Station
     ・17 min. to Nagamachi District
     ・25 min. to Kenrokuen Garden
     ・13 min. to Omicho Market
     ・20 min. to Korinbo
     ・25 min. to East Geisha District
* Pongyi is in the middle of the shortcut from Kanazawa station to the center part of the city.
 * You can take buses from "Rokumaimachi bus stop" which is close "2 min. on foot) to Pongyi.